ET Superior Services is a professional office cleaning and commercial janitorial company that provides quality cleaning services. We focus with companies who have 10,000 or more square foot of office and warehouse space. Quality service and customer satisfaction are our top priority. As a result, our customers say that our service is second to none.
Our mission is to fulfill your commercial janitorial and office cleaning needs completely. We take a very customer-focused approach by taking time to discuss and evaluate your specific situation. And we introduce a quality solution that is tailored to your specific needs.
Moreover, we strive to work with professional companies that enjoy working in a clean environment. Our trained professionals work hard to ensure that your business space is made new again on a daily basis.
Our complete range of commercial cleaning and facility management services include office cleaning, janitorial, sanitation services, floor care, lawn care, and more. To follow is some information on the more common commercial cleaning services that we provide:
Quality Professional Top-Rated Full-Service Office Cleaning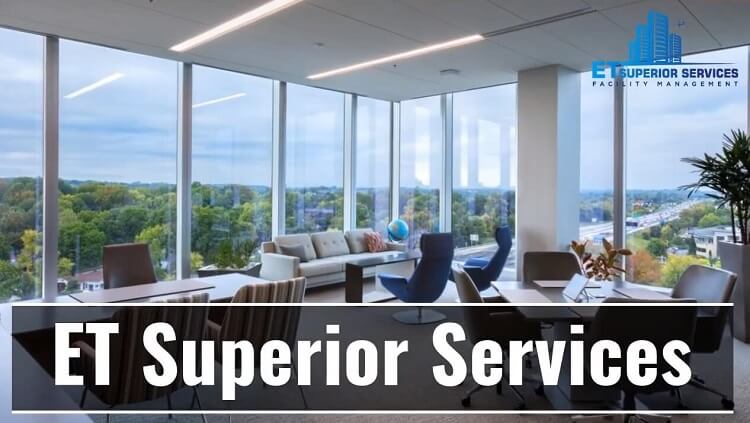 Electrostatic Spraying Disinfection Services
Our professional disinfection services helps drastically reduce the spread of viruses such as MRSA, influenza, HIV, and many others. We get the job done efficiently and effectively.
We've invested in the newest technologies to bring you world class professional cleaning service in this fight against Covid 19 and other common workplace pathogens. We make it virtually impossible for germs to take hold at your place of business. Many forms of bacteria and viruses that land on any surface at your organization will be killed immediately on impact.
Coverage is superior than with traditional cleaning methods. This service is the best option for high-use and heavy traffic areas where you need the most comprehensive method of removing germs. More information here on Electrostatic Spraying Disinfection Services
Waste Removal Services (Waste Management)
At ET Superior Services, we also offer a customized waste management solution. While some of our clients have identical waste collection and management needs, other clients have unique and special requirements. We can customize and tailor a program that meets your needs. Not only do we help you manage your waste, but we also help manage your associated cost.
The commercial waste services we provide are solid waste removal, recycling, compost waste, sharps and needle disposal, hazardous waste, medical waste, and landscape debris. We work to ensure a proper commercial waste treatment and disposal for all your locations. We respond quickly, so we can promptly meet your needs.
Window Cleaning Services
Clean windows are truly important. Maintaining a spotless image in the public eye is even more important. This is especially true if you are a commercial or institutional facility with a reputation to protect. Our host of office cleaning services includes our standard window cleaning service, building and exterior cleaning, pressure washing, and window restoration.
We currently provide these services to St. Louis and Kansas City facilities, corporate headquarters, office buildings and healthcare facilities. We can be trusted to get the job done securely and professionally.
Office Dusting
Dusting is an essential service that we provide in all our client locations. Visible dust creates an unsightly work space, which can translate to an image of neglect. In addition to being unappealing, dusty offices can contribute to "sick office syndrome." A well dusted office building translates a positive and pleasing image to all building visitors and occupants. Similarly, providing a clean working environment encourages neatness, promotes better work habits, and can reduce absenteeism.
Restroom Sanitation Cleaning Services
Without proper cleaning and care, restrooms can become a breeding ground for germs and bacteria. Using deep-cleaning tools, top-of-the-line technology, and professional dedication, we can remove built-up grime and wash hard-to-reach areas. We ensure that your restrooms are clean, welcoming and spotless. In the end, your restrooms will be clean, sanitary, and easy to maintain.
Floor Care Cleaning Services
Using our many floor care services, we can enhance the appearance and reputation of your facility. We will design a customized floor maintenance program tailored to fit your floors, hours, and budget. This will allow you to take control over the first impression your guests have upon entering your facility.
Additionally, every member of our floor care staff has also received comprehensive restroom sanitation professional training. We can handle any job from multi-level office buildings, warehouse floor scrub, carpet cleaning services and many more.
Office Carpet Shampooing
While professional carpet care is not inexpensive, consider the substantial investment you have in your carpet. Proper maintenance will extend the life of the carpet for years and avoid the high premature replacement cost. Likewise, there are tremendous health benefits to regularly cleaned carpets.
Clean carpets improve the quality of the air in your office by eliminating harmful particles that would otherwise be continually circulating in the air for your employees to breathe in. Healthy carpets not only help create a healthy office environment, they can also reduce employee sick time.
Floor Scrubbing & Waxing
If you are looking to create a professional image, clean, shiny, and well-maintained floors are essential. They provide a welcoming environment for customers, employees, and anyone else who visits your business. Flooring will begin to lose it shine over time and can become discolored and dull.
To protect your floors and your investment, it is important to clean, maintain, and protect their finish by waxing them on a regular basis. Not only does a new coat of wax make your floor shine, but it protects your investment for years to come.
VCT Vinyl Composite Tile Stripping & Waxing
Vinyl Composition Tile (VCT) is common in commercial building offices, break rooms, restrooms, and other high traffic areas. Whether you have old floors or if they are newly installed, it is very important to scrub, clean, and wax these floors on a regular maintenance schedule. This will help protect the floor from staining and wear, protecting your investment and the cost of early replacement.
We can professionally strip the existing finish, clean the tile thoroughly, seal and wax it. To finish the job, we burnish (buff) it to a high shine or low maintenance finish. You can trust ET Superior Services to professionally manage all of your floor care needs.
Office Lawn Care & Landscaping Services
While traditional jobs like mowing your lawn and general landscaping are important, we welcome all creative and time-consuming jobs. Attention to detail, quality service, and providing that professional difference are some of our core values. For example, we provide debris removal, landscaping, lawn fertilizer and treatments, shrub/tree removal and so much more.
Why Our Office Cleaning And Commercial Janitorial Services Are Different
At ET Superior Services, we are committed to providing high quality professional cleaning services at an affordable rate. Our high standards and excellent customer service is what makes us stand out among other janitorial companies. We have a strong team of professional cleaners who will work with you to understand your specific cleaning needs and create a customized plan that fits your budget and schedule.
We use the latest cleaning technology, equipment, and cleaning products to ensure the highest cleaning standard in the industry. Our attention-to-detail approach and 100% customer satisfaction commitment has made us one of the most trusted commercial cleaning companies. Whatever your janitorial cleaning needs are, we have the experience and expertise to deliver quality, consistency, and the professional difference.
If you are looking for a highly professional and dedicated commercial and office cleaning company, you can count on us. We will provide you the services you expect and the quality you deserve!
Schedule your complimentary and comprehensive review of your facility today. Simply call the number below, email us, or complete the form provided in our "Contact Us" link below.
Contact Us Today
We will show you the difference! Contact The Company You Can Trust Today!
Send us a message or request a free quote using our Contact Us page.
You can find more information here on our office cleaning St Louis MO services and customers.
You can also learn more about our expanding commercial office cleaning and janitorial services in Edwardsville, IL.